Levereged Supplier Programs!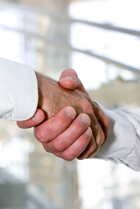 Multiple supplier solutions allow our clients to utilize their travel volume to establish preferred supplier relationships and negotiated rates. These solutions include proprietary supplier programs and leveraged supplier solutions, which can offer savings ranging from 5 to 60 percent off supplier rates.
Proprietary Supplier Programs
Through our relationship with American Express and other negotiated programs, we can offer discounted prices based on our extensive buying power within the travel industry.
Leveraged Supplier Solutions
Based on your company's travel spending patterns, we can maximize on your corporate travel volume to negotiate and secure the lowest rates from preferred suppliers.
Preferred Vendor Policy

Supplier Evaluation

Supplier Negotiations